How's the Year of Faith going for you thus far? It started several weeks ago and I can't say I've seen too much change in our parish. To the Sabbath day observer, Mass is what the Mass has been. The homilies are sort of the same (mine excepted he said with a touch of sinful pride :-). The parish Director of Religious Education is offering some Vatican II document study classes, but I haven't heard anyone talking about them… don't tell Ms. Judy I said that – I just mean I haven't heard anyone fired up yet about the Year of Faith.
Well — now that I've said what I said, there are two other things new in recent weeks. The former head pubah of the Knights of Columbus has gotten us started with the Home Enthronement Program. Do you know what that is?  Home Enthronement (HE) is the beautiful program of installing Christ as the welcome guest and head of a family and household.   

HE is normally accomplished by a simple, beautiful little 'program' of welcome of the image(s) of the Sacred Heart of Jesus (and the Immaculate Heart of Mary as an optional addition). These inexpensive pictures are brought into the home and then a few days later, a priest or deacon or an Enthronement coordinator (and any invited guests) come together for a short liturgy of official enthronement of the holy images.
The "Enthronement" is more than a blessing of the Sacred Heart picture for the home. It is the dedication of a person and family to the Divine Heart of Jesus, for us to live in union with Him by love, grace and obedience to His Commandments. The Enthronement brings countless graces and blessings, as enumerated in the Twelve Great Promises He made to St. Margaret Mary. Pius X directed a priest, Fr. Mateo to make it his life work to bring the entire world, home by home, family by family to the Sacred Heart.
You can find information on-line and do this installation process yourself. However, my first YEAR OF FAITH Advent suggestion is to plan to do this with your pastor or deacon and involve others in the parish so as to start a movement such as we have done in our parish.
The second thing that has taken root in our parish is a Lectio Divina Bible Study Group. Most of our parishioners weren't familiar with it. I preached about it at a couple weekday Masses, and some approached me after to ask about it, and about getting a group started.
Lectio Divina is Latin for "divine reading," "spiritual reading," or "holy reading." It is a somewhat different method of Bible Study in that it encourages a more interactive method of trying to pray and become engaged with the inspired Word of God.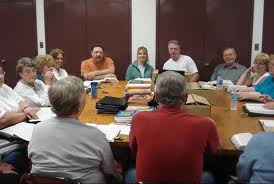 The principles of this study method date back as early as the 200's A. D. It was practiced by Catholic monks, especially under the rules of Augustine, Basil and Benedict. And even if you haven't heard of it, it truly is popular among a great many Catholics.
Pope Benedict XVI said in a 2005 speech, "I would like in particular to recall and recommend the ancient tradition of lectio divina: the diligent reading of Sacred Scripture accompanied by prayer brings about that intimate dialogue in which the person reading hears God who is speaking, and in praying, responds to him with trusting openness of heart."
I've done a four page writeup that I gave to our Lectio Divina group when we were first starting. We've been meeting for about four weeks. Average attendance is about 12 which I think is a nice size for intimate sharing as we become used to doing that. If you would like to have a copy of my writeup (which was gleaned from a talk done by a priest on this subject) – I'd be happy to email a copy to you.
What we decided to do in our own small Lectio Divina group was to use the upcoming Mass readings for the next Sunday and apply this format to our Bible studies. I've already heard such good feedback from people how it allows them to recall what we talked about, what they may have heard then versus when read in the Sunday Mass, etc.
And so – a second idea for your consideration in this YEAR OF FAITH is to try something different – for example, form a Lectio Divina Bible Study this Advent. The good thing is the leader doesn't have to be a Bible expert — the Lectio Divina format, if adhered to in your meetings will be the guide to engaging in God's holy Scripture.
Blessings.
Deacon Tom
"Have you ever watched a cow chew its cud? I have.  When Pope Benedict asks us to ruminate on the Word, that's what he is talking about.  Ponder, chew, reflect on the meaning over and over and over, then put yourself in some of the Gospel scenes, and ask yourself honestly what you might have said or done if you had been present.  You'll see some things that will surprise you, some things that will challenge you about yourself." 
Sister Ann Shields, S.G.L.
To Be Like Jesus, Servant Books