One of the joys of the early years of being a deacon has been my work with young couples as they prepare for the beautiful sacrament of marriage. At the time, we lived in Estes Park, Colorado. Estes is a small Colorado town of gorgeous views and it sits at the base of Rocky Mountain National Park and the Continental Divide. The parish was a classic mountain church and it was a destination place for young couples seeking sacramental union in the Catholic Church. Many young men or women grew up vacationing in this area and wanted to bring families together to share in great joy and inspiring creation.
While I worked hard and with much love to prepare couples, I'm not naive; troubles often come early in a marriage. I recall doing homilies at all the Masses at the parish one weekend. I preached on God's plan for man and woman and about the gift of self to each other. One couple came up to me as I greeted people outside. It turns out there were visitors and were honeymooning in Colorado. They had been married elsewhere one week and a day by the time they talked to me. I broke into a big smile but they weren't smiling.
"How can I help you?" I asked, my face turning ministerial. They said they had done nothing but argue since the time they left on their honeymoon. They were beginning to wonder if they had made a mistake. The opening 200 hours of their new life were a horrible disappointment. I did the best I could in short moments in between Masses. After counseling a bit, I asked if I could have them join their hands and let me put my hands on their shoulders and I prayed for them and gave them a blessing. I'll not forget them and their pain where great joy and peace should be. What did they go through for preparation? How mature were they? Did the prayer and blessing help?
Fade to years later: Today, I was taking Holy Communion to people in a couple nursing homes that I visit on Thursdays. As I drove from one location to another, I resumed praying a rosary I had started earlier. I was on the Second Luminous Mystery, the Wedding at Cana. I thought about the gift of my wife, and about our marriage. I prayed for a blessing for us.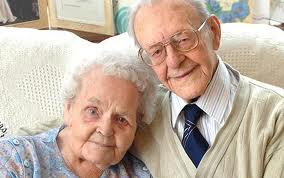 Interrupting my prayers again, I pulled up to and entered the second nursing home. In the 'living room' area of this pleasant home, there in the same as always seats were Gene and Alice. They are a couple I recognize because Alice had been a patient and resident at the other nursing home for perhaps a year. Gene was always with her. When I didn't see either of them in the first nursing home, I suspected the worst — the outcome that so often happens in a place of late-aging. And so imagine my surprise when I started going to this second nursing home and found Gene sitting right next to his wife. She does sleep a lot but when she's awake – she's talkative. He dotes on her. He is with her virtually every day. I would guess they are in their mid 80's. His love and constancy in attending to his wife… his desire to be with his all-of-life spouse is so beautiful.
Thank you, Lord for the gift of Church and Sacraments. Thank you for sanctifying the all-of-life union between one man and one woman. Thank you Gene and Alice for your Protestant witness to your marriage. We all have so much we can learn from you.
Below is the reading that is probably the most requested of readings for the weddings I've done as a deacon. It's often called the Hymn of Love. These are Words worth rereading and sharing with your spouse.
Blessings.
Deacon Tom
www.catholicvitamins.com
catholicvitamins@gmail.com
Note: This Reflection is also scheduled to run as a November/December 2011 column at www.catholicmom.com
A reading from the first Letter of Saint Paul to the Corinthians 12:31–13:8a
Brothers and sisters: Strive eagerly for the greatest spiritual gifts.
But I shall show you a still more excellent way. If I speak in human and angelic tongues but do not have love, I am a resounding gong or a clashing cymbal. And if I have the gift of prophecy and comprehend all mysteries and all knowledge; if I have all faith so as to move mountains, but do not have love, I am nothing.
If I give away everything I own, and if I hand my body over so that I may boast but do not have love, I gain nothing. Love is patient, love is kind. It is not jealous, is not pompous, it is not inflated, it is not rude, it does not seek its own interests, it is not quick-tempered, it does not brood over injury, it does not rejoice over wrongdoing but rejoices with the truth. It bears all things, believes all things, hopes all things, endures all things.
Love never fails.
The word of the Lord.