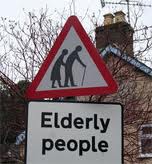 Have you read Rick Warren's book, The Purpose Driven Life? The opening words of Chapter 1: "It's not about you. The purpose of your life is far greater than your own personal fulfillment…"
If you are a faithful listener and friend of The Catholic Family — you've probably heard Allyson talk about her visits to a former neighbor, Mrs. Uilkie. She's gone to be with the Lord now — but for some time, I know Allyson and the kids used to visit Mrs. Uilkie. She was a lady who lived alone and was waiting to enter into eternal rest. I believe the Sweeney's loved her and she loved them. Some while ago, there was (still is) a picture of the elderly lady holding the new Sweeney baby, Mattie Clare.
I don't think there was any family relationship between Mrs. Uilkie and the Sweeneys. She was simply a person who was alone and loved her faith as she loved visitors. And so, from time to time, dear Allyson would phone and then load the van and bring the young ones to visit their neighbor and bring smiles and Christian caring. The Good Samaritan  doesn't have to visit someone beaten up by the world — the Good Samaritan need only find someone who will benefit from a platter of cinnamon rolls and a hug during a visit.
However…. however, I've run into a situation that tugs at my very heartstrings. I've been visiting a sick and soon to die man from our parish. He's every bit the curmudgeon — but he loves a visit and loves to talk about his youth, his wife, his participation in the Knights of Columbus. But Jack is very sick and he's been on kidney dialysis for perhaps a year and a half. Each treatment sustains life but seems to drain energy and the will-to-live.
I took Jack Holy Communion on Sunday. He and his wife had been in a discussion about whether Jack should stop taking the treatments that are keeping him alive. They met with Jack's doctor who told him that it isn't going to get any better at all. And each treatment will leave him alive but further weakened. If Jack stopped the dialysis, the doctor told him he would have about ten days until his body shuts down from the poisons in his system. Jack and Julie were actually talking this over, and they brought it up to me when I came to visit on Sunday.
Well here we all are, ready to take off on our summer vacations or we're watering and weeding our gardens… and then there is someone like Mrs. Uilkie or Jack L. who is about ready to enter eternity. Jack has made it very clear that he wants me to preach at his funeral. What to say? I'd better find out more about Jack and his growing up years.
I'd better find out about his faith journey. I already know about his temper and his quick laugh. I wonder what his adult kids would tell me about him? Here's a strange kids-related story: When Jack called one of his sons to discuss this possibility of stopping dialysis — the son said, "Well, don't you want to go fishing again? Don't pull the plug just yet." Jack is so weak he can barely get off his couch – but the son doesn't want to give dad a 'release.'
And then there's me – Deacon Tom. Should I stay here these weeks and wait till Jack passes? I've got things I really want to do. Reservations are made. Plane tickets bought.
But then again, it's not about me, is it? Rick Warren says I was born by His purpose and for His purpose. How does that relate in this situation?
[callout]What would you do? What would Jesus do?[/callout]
Blessings.
Deacon Tom