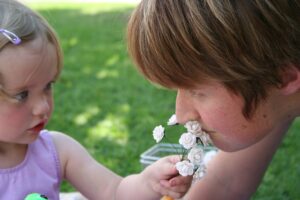 If you happen to read my words from time to time, I hope that you don't mind that I refer to Catherine Doherty and Madonna House every so often. Catherine was the foundress of Madonna House up in Northern Canada – and it now has field houses in about 20 locations. Madonna House is a mostly lay community of men and women who live a very simple life based on radical compliance to the Gospel. Catherine Doherty was a great lover of the Church, the Eucharist, the priesthood and married life and families. She and her late husband, Eddie Doherty were both 'close to the earth' to use an old expression. They loved God's wonderful creation.
I was looking at some of Catherine's words with regard to spring. I found these: "Soft pastel shades tint the evenings of spring and the early morning, bringing new hope, new life, especially in the hearts of those who live in the midst of nature. So it is with the Church," Catherine writes… "so it is with the people of God. Hope is like the sap rising in the trees. Easter reminds us that Christ is truly risen, and that all Christians have life in the risen Christ. Each member of the Church lives in the resurrected Christ."
Now I am deaconing all the weekday Masses this week. And on Monday morning, I thought of Catherine's words. I looked out at those present for daily Mass: old timer Bernie commented days ago about a book he had borrowed from me. It was written by Patrick Madrid and it's called SEARCH AND RESCUE. It's about how to prayerfully work to bring our children and grandchildren back into the Catholic faith. Bernie sounded so upbeat and renewed from reading that book. Like many of us, he has adult children who have left the practice of the True Faith.
Looking out at Mass, I remembered that Mary S. sent me an email in which she said that she had borrowed a CD that I put out when I did the talk at the Lenten day of recollection. Mary said she enjoyed the CD so much that she had signed up for the Lighthouse Catholic Media CD of the Month shipment program…  Mary's faith walk is being renewed this spring.
And on Monday at Mass, I looked and saw dear wife Dee and Darleen and Michelle and Caroline; these are some of the women who had signed up and went in 3 cars down to Phoenix to a wonderful day of Women Gathered In Grace, sponsored by the Council of Catholic Women in Phoenix. Our contingent from St. Philip's joined a total of 600 women who were there to seek fertile ground for a new birth of hope and the journey of faith.
Luminous is the light of spring; luminous is the light of the Resurrected Christ. Luminous is God's grace as He helps us to restore the land as we heard in a recent reading from Isaiah.
Is your soil moist and ready to receive the seeds of renewal? Or is it hard and brittle and resistant … like clay? We ought not to think of Lent as a time of refraining; rather think of Lent as a time for growing… sending up new shoots of a greening faith.
Your soul… my soul… [callout]we are the soil waiting to give birth to the new life of faith[/callout] in us at Easter… and on Divine Mercy Sunday. Soon we will add an Alleluia to our prayers and to our thoughts. Let's fertilize and cultivate the soil before then.
Blessings.
Deacon Tom