Cookouts, picnics, hikes, swimming. Ah, the fun and times of summer. Have you been 'hard at it' this summer? The early part of our summer had much going on in it, but I'm so thankful that it began with a wonderful retreat and conference (at Franciscan University in Steubenville, OH). It was my seventh year of going to this week of renewal and graces. And yet, it's just shy of two months since the retreat, and I've since found much to distract me: a driving trip to Colorado with friends, then dear wife Dee left and went to a family reunion back east. And for two months, we've been trying to buy a new home. [callout]Don't let summer dryness or any seasonal or situational dryness keep you from seeking renewal of your faith walk.[/callout]
The summer heat has built up. It's been near stifling. I almost need renewal again. And so, I made a special point to get to Confession this past weekend. It was a good Reconciliation, thank you Jesus. And Dee and I went to a different parish as I was 'off the altar' last weekend. The different parish had a large musical group and a very energetic worship style. (Almost too much, but it was a reminder to get up and praise God with heart and mind and soul. And with your neighbor.)
Do you recognize signs of summer dryness in your faith walk? Here are words by the late priest and author Henri J. M. Nouwen:
"Sometimes we experience a terrible dryness in our spiritual life. We feel no desire to pray, don't experience God's presence, get bored with worship services, and even think that everything we ever believed about God, Jesus, and the Holy Spirit is little more than a childhood fairy tale. 
Th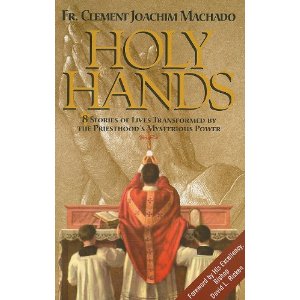 en it is important to realize that most of these feelings and thoughts are just feelings and thoughts, and that the Spirit of God dwells beyond our feelings and thoughts. It is a great grace to be able to experience God's presence in our feelings and thoughts, but when we don't, it does not mean that God is absent. It often means that God is calling us to a greater faithfulness. It is precisely in times of spiritual dryness that we must hold on to our spiritual discipline so that we can grow into new intimacy with God."
And so — my faith is reawakened. I'm more alive. God has sprinkled my summer dryness with a hyssop branch of fresh cool water. I've gotten past my cracked and parched 'feelings' and I feel called to a 'greater faithfulness.'
People often recommend books, especially for summertime readers. I'd like to mention three that have helped renew me this summer. First, LET THE FIRE FALL by Fr. Michael Scanlan, T. O. R. It's the story of how the power of the Holy Spirit revolutionized the life of Fr. Scanlan and Franciscan University. I believe this book will convince you the Holy Spirit can do the same for you.
The next book is a wonderful read by an exorcist. Get your attention? Well this book is worth your attention. It's HOLY HANDS — Stories of 8 Lives Transformed by the Priesthood's Mysterious Power. It is written by Fr. Clement Machado who has done something over 1,000 formal exorcisms and as many as 3,000 healings and deliverance ministry sessions.
Finally, I'm rereading The Fruits of Medjugorje – Stories of True and Lasting Conversion by dear friend, Elizabeth Ficocelli. (She's been a guest on our Catholic Vitamins podcast.)
In conclusion, I might say that I am continuing to go to Friday Adoration before the Blessed Sacrament. Adoration has become a special gift to me and I can't recommend it highly enough. If you don't feel like you get anything out of Adoration, or if you don't really know what to do in that quiet, I recommend you Google 'what to do in adoration.' You'll find link after link with information to explore about developing your approach to Adoration. Here's one good link: www.maronitemonks.org/articles/February2006.pdf   The article is entitled 48 Things to Do at Adoration.
Put a 'bounce' in your steps. Jesus is walking with you. On the beach. In the mountains. At the park. At the pool.