Does anyone, anywhere still have angel pictures prevalent in their home these days? Close by the baby's crib? In the children's playroom? Are angels even meaningful to us 'moderns?'
I used to go to a hair stylist when we lived in San Francisco. (NB: When you live in San Francisco – they are stylists – never barbers. But I digress.) Over some years of going to Lisa – I came to know that she was a former Catholic. Religion still tugged at her somewhat. But Lisa wasn't practicing. She had a sort of left-coast approach to organized religion.
Lisa had a thing about angels. She had angels everywhere around her work area. There were angels visible; there were angels partially hidden in potted plants and in wispy material that might look like or actually be referred to as angel-hair. You know the kind of white material that someone might put up as part of a Halloween display? That's the stuff I'm talking about. And in those areas where Lisa had created some sort of ethereal display, she placed angels.
Not that these displays had anything to do with non-corporeal and beautiful, intelligent spirits. No. Lisa's angels were good mood and good luck and good intention sort of objects. Look at the angels and think good thoughts!
Most of us cradle Catholics were raised to know of angels. We used to think of them as crossing guards and good behavior icons. And the nuns helped maintain that sort of approach to them with the prayer we had to learn: "Angel of God, my guardian dear. To whom God's love commits me here. Ever this day be at my side, to light, to lead, to rule and guide."
We can hold on to that thought, but let's consider also what our Catholic Catechism tells us: "Angels are spiritual creatures who glorify God without ceasing and who serve His saving plans for other creatures: "The angels work together for the benefit of us all." (St. Thomas Aquinas) CCC350.
Now recently, maybe my Guardian Angel (yes, I believe!) has been helping me to read more and be reminded more of the angels. I may even have more than one angel assigned to me. Not that I'm that special (although I've been marked with the sign of ordination as a deacon, thanks be to God!). You may have multiple angels assigned to you as well.
I've been trying to remember to pray each morning to my angel(s). Help me today. Guide me today. Steer me today.
So maybe I shouldn't make light of Lisa's angel displays. Because they might be a reminder to remain aware. Awareness of the beauty and the power and the intelligence that is unseen but which remains near us.
As Mike Aquilina wrote in his Servant Books publication, Angels of God: The Bible, the Church and the Heavenly Hosts:
"The main thing is to be aware of the angels around you—and get in the habit of calling upon them for little favors.  Invoke them silently as you begin each conversation, as you dial the phone, as you start to reply to an e-mail.  Ask them to give you the right words.  Ask them to help you avoid words that can damage your relationships and compromise your Christian witness."  NB again: I've been known to explode from time to time — this last sentence is appropriate for me at least. (Maybe I could do a column on justifiable anger some time. Any thoughts on that?)
I can't say if they helped or not, but I invoked my angel/s while writing this column. Let me know if you think my words were heavenly. 🙂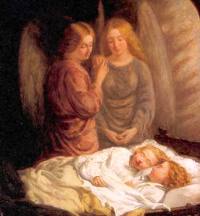 Blessings.
Deacon Tom