Have you ever heard of the word Mugwump? It's a noun which is defined from a dictionary as a person who remains aloof or independent, esp. from party politics.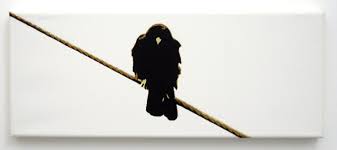 But in a more literal or common use (how can any word we hardly have ever heard of be in 'common use?') — the word mugwump is known as in a bird. A bird that sits on the fence with its mug on one side and its 'wump' on the other side. A mugwump bird is waiting to fall off onto the side of a right decision. But most often is paralyzed by indecision. Example: have you ever held a dinner get together and done things to stimulate conversation? "What do you think of this federal healthcare?" "Oh, some like it and think it's a great idea. Some say it's far too expensive." That's a mugwump answer.
Are you a mugwump? When it comes to our Catholic Faith and any question that someone poses to you… I sincerely hope you are not wishy washy and undecided. In fact, Scripture tells us, it instructs us to always be ready to give a reason for the hope (the faith) that we have within us.
"What do you think of Pope Francis?" My answer: "He is a gift from God, selected by the Holy Spirit before the Cardinals even knew what the Spirit wanted." Your answer?
"What do you think about giving gays the right to marry?" My answer: Gay people can't enter marriage as Catholics and Christians (traditionally) have known marriage. It's a sacrament between a man and a woman. Anything else is in grave violation of God's plan and in Holy Scripture." Your reply?
If someone says they believe the Church doesn't have any business telling a woman what to do with her body, what would you say? I would hope it's something like, "I agree completely until there's a second person's body involved. And as an add-on thought, our body is a gift from God; it's a temple of the Holy Spirit. Children are a gift from God, just as the Holy Spirit became the 'husband' of the Blessed Virgin Mary. So forget all the foolishness about I get to make all my own decisions about my body. Where is God in this?" Your thinking?
If someone comments to you that they don't understand how you can belong to a Church that has allowed pedophile priests to be in its ranks. Your answer would be? My answer: "That episode was a horrible sin and disgrace. But, I believe in one, holy, Catholic and Apostolic Church. The word holy doesn't mean that every person is holy. In fact Jesus lost every one of his apostles to fear or to lies. Even Peter, the first pope. You must not understand humanity or the meaning of the Creed if you expect that every person in the Church is bound to be holy. Let he without sin cast the first stone. And they all walked away quietly." You do feel agreement with this don't you?
All too common, this one: "Our pastor is rigid, unfriendly and unwilling to hear our requests for better music and programs in the parish. I don't feel like I'm being fed at this church." My answer: I'm very sorry and very sympathetic to your thoughts. During my deacon formation, it was said to me more than once that the last place to look for perfection is IN THE CHURCH. Not funny at all, and totally true. It doesn't make it any easier to accept. I would ask you to start with a meeting with your pastor and gently and with respect tell him what you are struggling with. It may not do any good, but that is the place to start. A respectful letter to the bishop would be a next step. And if there is no reasonable efforts to consider change, then perhaps the following. If you are in a large enough municipality or setting where you have other parishes, go to another parish, meet with the pastor and with great respect for his peer priest, let that pastor know what you are experiencing. That may sound like gossip or back-biting. But it will give the other pastor a chance to explain how he views these matters in his own parish. You may find him quite willing to respect your views and for him to invite you to become a member – a valued member of his parish.
If you are not in a large enough area for other parish alternatives, I would hope that you will pray hard and often for God's gift of acceptance. It may be a cross you have to carry for a period of time. I've had experience with this and it is an opportunity to carry a portion of the cross that Christ carried. May God grant you peace.
Don't be a Mugwump. Do something forward. Or in movement to the rear. 🙂
Blessings.
Deacon Tom