The following is the 'heart' of Deacon Tom's EASTER HOMILY given at his parish in north central Arizona. A bit of it has been modified for the readers at the Catholic Family Podcast site.
Dear parishioners … dear folks visiting family members … dear visitors. We wish you a most holy and blessed Easter. Let me start with a brief story from my past. My wife Dee and I were in our previous parish for just under ten years – you get to know a lot of people… their families… the seasonal family visitors who come for special holidays and summer vacations. Well – on a particular Easter back there, the pastor had me preach at all the Masses – and I remember starting my Easter homily at the largest, most crowded Mass with these words: "It's good to see those of you we haven't seen for a year or so…" There was sort of nervous laughter – some of the regular attendees thinking I was taking a jab at the Easter Christians. When in fact I didn't mean it that way at all… I just saw some family visitors in town for the holiday weekend and I wanted to be as welcoming to them as to the locals.
Now – if you're here today, and haven't been at church for something like a year — you can pretend you're family and related to one of our members and I won't say a word at all… Or let me restart this way…
I heard a member here telling of a few couple that he knows: they are a mixed faith couple. The husband is Catholic and the wife is a Protestant. One week they come to the Catholic Church – the next week they go to the other Church… which reminds me of Vernon and Shirley — a mixed faith couple at our old parish back in Estes Park, CO.
She was Methodist and he was Catholic. They both held to their convictions and respected each other's beliefs. But the difference between Vern and Shirley and the local couple I started with is this. Each Saturday evening, Shirley accompanied Vern to the Saturday Vigil Mass, and each Sunday Vernon accompanied Shirley to the Methodist service. This went on for years.
Surprise of all surprises — the pastor at our old Catholic Church needed a secretary and he knew Shirley. He interviewed her and asked her to be the parish secretary. And for the next couple years – the Methodist Shirley worked the front desk at Our Lady of the Mountains Catholic Church while she and Vernon continued their split worship weekends.
And then — Shirley came to the decision that she didn't know enough about the Catholic faith… about the beginnings of the Christian Church… about sacraments, sacramentals, preparation for sacraments… and you know Shirley was getting all these telephone calls and not really knowing how to handle them… and so she made a decision. Shirley asked to attend RCIA – the Rite of Christian Initiation for Adults — it's like faith education for adults. She said she had absolutely no intention… ZERO INTENTION of becoming Catholic. She just thought that as a sort of main focal point for people coming to the office or phoning in to ask questions – she ought to know how to answer some questions and to help them.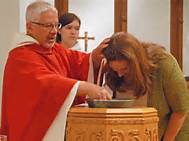 Long story short – finally Shirley became a Catholic. She was resurrected from her former beliefs – precious though they had been to her… and she came to life in the Catholic Church..
And that story reminds me of another story to share. There is a wonderful young married man who had a radical… I mean a radical conversion to the Catholic Faith after attending World Youth Day in 1990 when Pope John Paul II was living. The convert's name is Matt Fradd… And on a very recent flight from Philadelphia to San Diego – he was seated next to a woman we'll call Mary. Mary was like a lot of people who are of the mind that all faiths are sort of the same… and there's no sense getting fired up over one Church… Here's the shortened version of the conversation during the flight… [and you can find this story on Matt Fradd's blog site.]
"I suppose when it comes down to it," Mary said to Matt, "the main thing is that if people are sincere in what they believe, all religions are equal." "What do you mean by equal?" Matt asked. She replied: "I believe all express the truth, just in different language."
"If all religions are equally true, then does that mean you would accept everything that all religions teach?" Mary answered "Yes. I might express it differently, but I believe that deep down we are all speaking the same language."
"So you agree with the Christian religion, which says that Christ is the only way to the Father?"
"No." Mary was unaware of the logical contradiction she had just expressed. She looked at Matt as if perhaps he wasn't paying attention. After all, she had just stated that all religions were equally true. Why would Matt now ask her if she believed the exact opposite?
"I'm confused," Matt said, gently. "You say you believe that all religions are equally true, but you don't believe that the Christian religion is correct in saying that Jesus Christ is the only objective means of salvation. Doesn't that mean that you don't believe that all religions are equally true?"
Mary became uncomfortable when she saw that she had contradicted herself and dismissed what he had said by saying: "I guess I just think it's arrogant to believe that your world view is right and that everyone else's is wrong."
Matt then mentioned the passage in the Vatican II document Nostra Aetate: The Catholic Church rejects nothing that is true and holy in other religions. She regards with sincere reverence those ways of conduct and of life, those precepts and teachings which, though differing in many aspects from the ones the Catholic Church holds and sets forth, nonetheless often reflect a ray of that Truth which enlightens all men. Indeed, she proclaims, and ever must proclaim, Christ "the way, the truth, and the life" (John 14:6) in whom men may find the fullness of religious life, in whom God has reconciled all things to himself.
It didn't take long for Mary to realize she had never really thought through the sort of relativism that infects the world today… you know the relativism I'm speaking about? Everything is beautiful… but there is no TRUTH.
Today we Catholics celebrate the risen Lord Jesus. We are saints and sinners; our family has spanned 2,000 years and it exists and is the same around the globe. With God's grace and holy leaders, we started… we Catholics started hospitals to care for the sick. We established orphanages and assistance programs for the poor. For the first 1,500 years after Christ there was no Christian religion except Catholicism. And from this worldwide legacy of  worship and of hospitals and colleges and orphanages, we have been and are the largest charitable organization in the world. Oh – and we educate more children than any other scholarly or religious institution. And for twenty centuries, we've upheld the dignity of all life and the institution of marriage as a sacrament between one man and one woman. We Catholics defined the Bible in the 300's.. A. D.
And so – if you are here with us today at Easter and you think that it doesn't really matter all that much what to believe or you believe all Churches are equal, I pray that you will be led to a resurrection to a new life in faith… If you are here today and you are of the mind that Catholicism or any faith is a crutch… I'll cut you some slack and say that Jesus is my crutch… But He's also my rock and my salvation. He is my savior and I believe as deeply as anything I've ever believed that Jesus is real. Jesus is my friend.
I believe that Jesus is alive and that He's God and that He founded a Church  — one Church which dispenses graces through the Sacraments and the use of sacramentals like the rosary and the stations of the cross and holy water. These things are not really a crutch… they are an important part of my faith walk. I don't just have faith… I know that absolutely brilliant men like Pope Benedict… Pope John Paul II and St. Augustine… and women like Mother Teresa and St. Agatha and other women who allowed themselves to be torn apart by lions — these people gave their lives for this faith and it was never… never a crutch… it was their knowledge of a ticket to eternal happiness.
And finally – if you happen… happen to be a once or twice a year Catholic… I warmly and respectfully welcome you, and with true Christian love invite you to find out why it's not okay to be a once a year worshipper. This Church is in need of you… we are much much better when you participate with us as an active member… and we care about your eternal salvation. If you are worried about joining us because of sin in the Church – remember sin started long before the Church… it was there in the founding of the Church, and it sadly is still with us. But as I said, we are made up of saints and sinners… and you may become the only Bible someone will ever read. We need you on this journey.
Be a Saint. What else is there? See you next Sunday, okay? Easter Blessings.
Deacon Tom