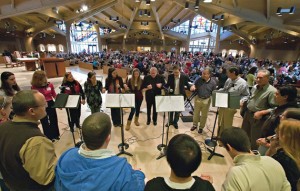 What would it be like to have a direct communications link to the Holy Ones in Heaven? Sound far-fetched and somewhat silly? I understand. But there are ways that we can hear from Heavenly residents.
There's the Blessed Mother, of course. She's been speaking to the world in many different venues for decades and more. In fact, in my humble opinion, I believe Jesus has asked His Mother to make concentrated efforts to reach and teach people of good heart, and those for whom there is hope for a good heart.
While I know the Church has a rather neutral stance on current apparitions such as in Medjugorje and elsewhere, I've seen and heard such wonderful stories of graces and conversions and good works pouring from these locations, that I'm inclined to believe in them. (NOTE: That's not official Church — that's purely Deacon Tom speaking).
And speaking of Deacon Tom — my spiritual director for the last two years that I was in deacon formation was a priest from Colorado. He had become burned out and was of a mind to leave the priesthood. Someone gave this priest a completely free trip to Medjugorje and when the priest came back — he was absolutely on fire. It started with the confessions he was hearing there: they were among the most profound and sincere confessions that they changed the priest's heart — the one in the priest who became my spiritual director some years later.
One of the places where Heaven is allegedly reaching out to mankind is found in the organization called DIRECTION FOR OUR TIMES (DFOT). There is a lay visionary there – her name is "Anne." What is hopeful about all of the material and words rushing forth from DFOT is that they are all faithfully submitted to a local bishop in Ireland where Anne is located. The bishop has approved her messages and lessons and teachings and has said there is nothing contradictory to Catholic Church teaching. And further, Dr. Mark Miravalle a professor of theology and Mariology has reviewed 'Annes' material and finds nothing that contradicts the teachings or morals of the Catholic Faith.
You can find a lot of information and testimony and 'heavenly-shared information' on the DFOT website: http://www.directionforourtimes.org/
I've been reading one of the 'volumes' of material published by DFOT. The one that I have in my current reading/consideration pile is VOLUME SIX: HEAVEN SPEAKS TO FAMILIES. There are words such as these:
St. Joseph message to fathers of families: "Your family can be another pocket of holiness, as we were. I will show you how. Remember that you have great and limitless help in heaven. Do not be discouraged if your family is struggling with worldly influences. Together we will move forward the example that our little Holy Family has set for you. All is well; let's begin." (The rest is message and guidance inside the book).
[callout]Jesus to Children: "I am with you dear children of the world. Do not be afraid because I am all powerful and I am your friend."[/callout] Jesus says, "When you are finished in the world, you will come to my home. My home is in heaven. I have prepared a beautiful place for you to live, where you will be very happy with all of the people you love from earth". (Isn't that beautiful and comforting for little ones?
There are words and challenge for mothers from a woman named Mary — and she is an unknown saint in heaven. That's what I'd die to be: an unknown saint in heaven.
Believe or not in such 'messages' or 'faith-lifts' made available in Medjugorje or Ireland or now even in Wisconsin, they are meant to draw fathers and mothers into more exemplary faith walk. And the increased faith in parents will certainly radiate to and help our children.
I'd like to hear from you if you've been to a famous apparition site, or if you've been reading something along these lines that really interests you or moves your heart.
Blessings.
Deacon Tom